Last week was the very first week I participated in the Oh Snap! Shots of The Week!
You can participate here
Happily Mother After
I was honored to see I received a special badge so I am proudly showing it off here!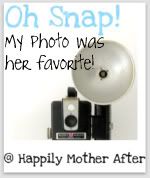 This is so cool!! I love the fact that I was her favorite! Now you all can join in the fun too.
Here is my shot of the week. My daughter! It was her birthday this week and I went out and got her a rose, balloon and stuffed animal to make her feel special when she woke up. She messed with this rose all day.